(Dublin, Ireland – November 30, 2022) – The Duke's Golf Course in St Andrews has described its new Club Car fleet, complete with industry-leading Visage technology, as "game-changing".
The prestigious Scottish venue, which hosted the 2014 European Amateur Championship, took delivery of 40 electric Tempo vehicles, in sleek jet black liveries, branded with the club's distinct dragon logo, earlier this year, building on a relationship with Club Car and its local dealer Carryway that began in 2005.
Ayden Roberts-Jones, Manager at The Duke's, the only Scottish Heathland course in The Home of Golf, said: "Although we have looked at other providers over the years, we keep coming back to Club Car as they have the best vehicles in the industry and their customer service is faultless."
Commenting on Visage, which provides enhanced on-course experience, while enabling live fleet management capabilities and up-to-date monitoring of a fleet's health, Ayden Roberts-Jones said: "The technology is a definite game-changer. The Duke's is an expansive course sitting in one of the oldest Scottish estates for the area. The golf cars offer a beautiful ride around this lay of land.
"It's a huge benefit to be able to manage, especially remotely, where these vehicles can go. The system allows us to protect certain areas of the course by scripting exactly where golfers can drive as they approach the greens, for example. This is a great, and very welcome, detail for us.
"From an operational point of view, we can also see which cars are being used more than others, what the battery life is like on each one of them, and see if any of the vehicles need servicing."
Ayden Roberts-Jones, who has been at The Duke's for 20 years, added: "From a guest's point of view, the system enables you to deliver an enhanced on-course customer service. You can get refreshments out to golfers wherever they are on the course, so they don't have to wait until the halfway house for food or drink."
Considered one of the finest heathland courses in the UK, The Duke's lies on the crest of the hill overlooking St Andrews and up the east coast, and is owned by the Old Course Hotel Golf Resort & Spa. It is part of the prestigious Kohler collection of Championship courses which also includes Whistling Straits.
Commenting on the long-standing relationship, Kevin Hart, Club Car's Sales Director for EMEA, said: "It speaks volumes when a club such as The Duke's, which ranks in the top 15 of Great Britain and Ireland's Best Golf Resorts* and prides itself on offering a world-class guest experience, continues to choose Club Car."
Club Car supplies many of the world's leading golf destinations with its wide range of vehicles, and is an official supplier to the DP World Tour, the 2023 Ryder Cup, PGA TOUR Properties, the Professional Golfers' Association (PGA) and St Andrews Links Trust.
For more information on The Duke's visit: www.thedukescourse.co.uk
*Golf World (May 2021)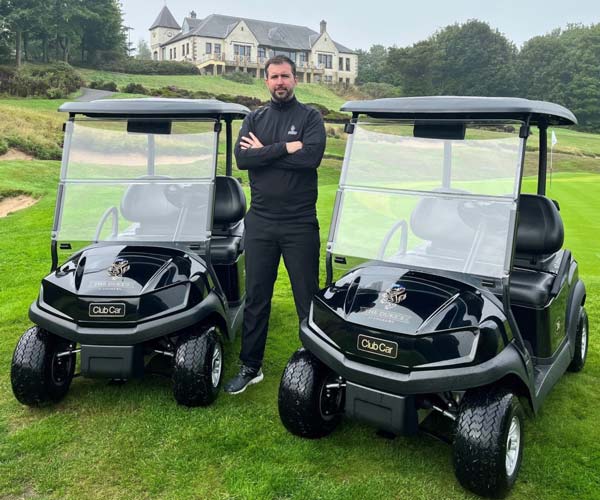 Ayden Roberts-Jones, Manager at The Duke's, with the club's new Club Car Tempos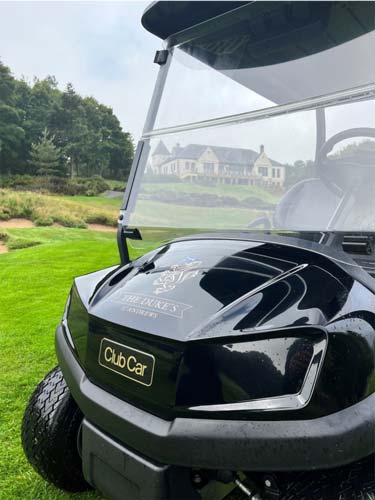 The new Club Car Tempos at The Duke's in St Andrews, Scotland
About Club Car
With over 60 years of experience of innovation and design in producing small-wheel vehicles, Club Car is a leading manufacturer of gas and electric golf, utility and personal transportation vehicles. Founded in 1958, the Club Car product portfolio has grown to include much more than golf cars, now encompassing vehicles for commercial and consumer markets, built with an uncompromised desire for superior performance. As an industry leader in electrification and sustainability, Club Car is proud to be on the forefront of environmentally responsible Zero Emission Vehicle (ZEV) technologies.
Find out more: